NO NEED TO COME TO US, WE COME TO YOU!
We are now offering scratch removal!
Our team of courteous and knowledgeable staff will walk you through our detailing process. We take our commitment to your needs seriously and work with determination and drive to help you achieve and exceed your expectations. Our vast experience and expertise will ensure a quality service that will leave you talking about our services to all of your friends!
Fully Insured
Now Taking Appointments for Corporate Clients
Welcome to Buffalo Auto Detailing!
Our team of courteous, knowledgeable staff will be with you every step of the way! Our years of auto detailing experience in the Buffalo area will ensure you understand your options and work with you to bring your vehicle back to like - new condition!
We are your local experts in keeping your vehicle in pristine condition! Our easy and convenient mobile car cleaning services come direct to your home or office on your schedule! We offer car detailing interior services such as vacuuming, steam cleaning, carpet cleaning, carpet shampooing and window cleaning. We will make your vehicle sparkle and shine with our exterior vehicle services such as washing, professional waxing and ceramic coating!
We are your number one Buffalo area car cleaning and auto detailing company!
We can take any smell out of your vehicle
such as cigar or cigarette smoke
Give us a call today!
100% MOBILE ● WE BRING WATER! ● WE BRING THE POWER!
Exterior Detailing
We are now offering scratch removal!
We do sanitize and use high-temperature steamer to kill bacteria, also include an exterior wash and wax, interior vacuuming, window cleaning, and surface polishing.
Learn More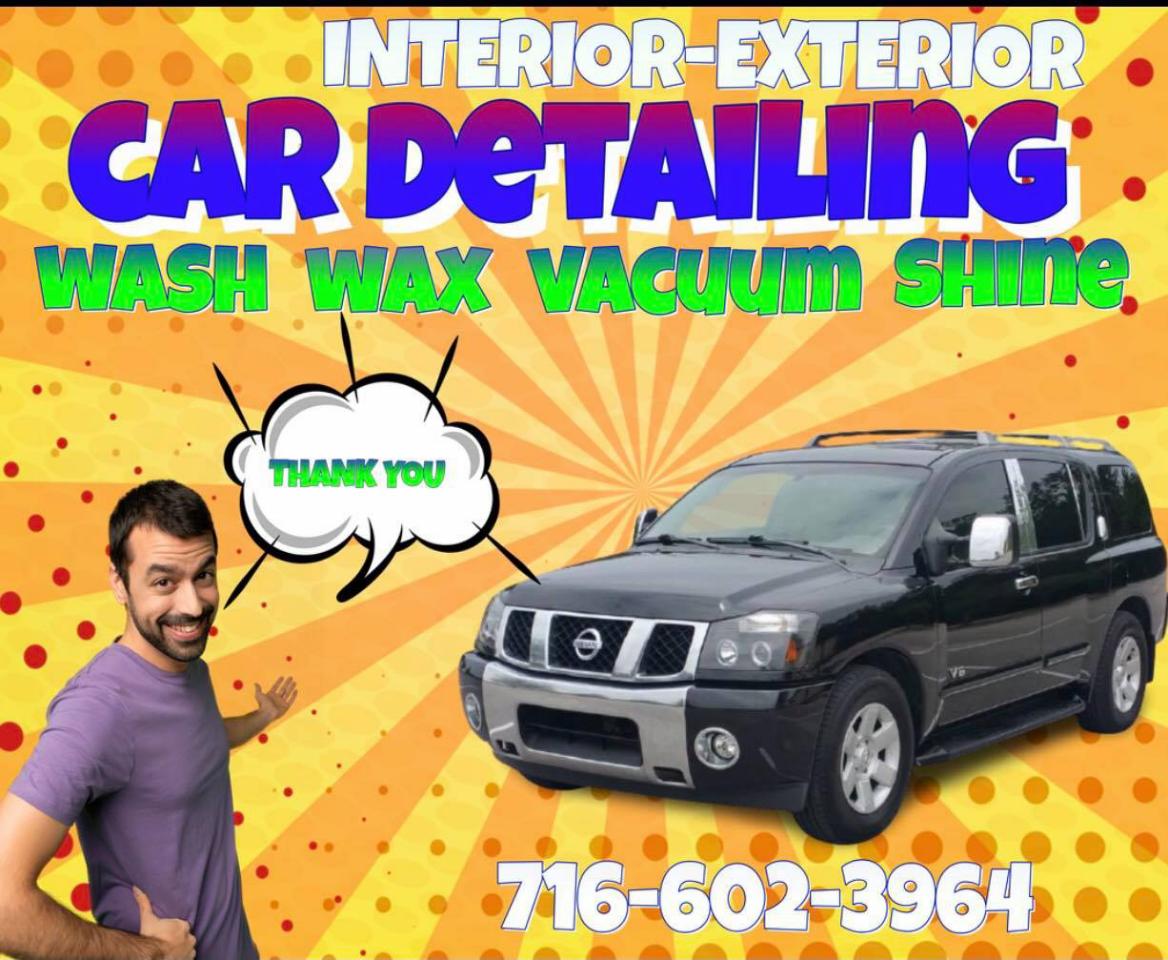 DON'T WAIT IN LINE AT THE SHOP
WE COME TO YOU!
WE CAN COME TO YOUR OFFICE OR HOME BUSINESS.
Unique challenges require customized solutions. Our team works with each new client to evaluate yur detailing needs. We take pride in being able to offer robust solutions while providing personalized service and high-quality services with products you can trust. We offer a dedicated and motivated staff that will work with you through each phase of your project.
Serving, but not limited to the following areas:
Williamsville, Clarence, Clarence Center, Lancaster, Getzville, Amherst, East Amherst, Depew, Orchard Park, Lakeview, Hamburg, West Seneca, East Aurora, Elma, North Tonawanda, Tonawanda, Lockport, Pendelton, Wheatfield, Kenmore, Alden and Akron.
Service Areas
Serving, but not limited to the following areas:
Akron, Alden, Amherst, East Amherst, Angola, East Aurora, Buffalo, Clarence, Clarence Center, Depew, Eden, Elma, Getzville, Hamburg, Jamestown, Kenmore, Lancaster, Lakeview, Lockport, Orchard Park, Pendelton, Pittsford, Pittsburgh, Rochester, West Seneca, Tonawanda, North Tonawanda, Wheatfield and Williamsville