Certified Installer
We use a premium ceramic coating you can't get without being a certified installer that contains modest amounts of SiO2 and is up to 10 times harder than traditional wax. These products provide UV, scratch and fade protection while adding hydrophobic and color enhancement properties that will keep your ride clean longer than traditional products.
Resists scratches
Anti-static
High gloss
Mirror-like finish
Ultra hydrophobic
Weather protectant
UV blocking
Bug and dirt repelling
Easy to clean
Anti-corrosion
Preserves resale
Single Stage Polish Included to prepare the paint (removes light to moderate defects).
Paint Correction EXTRA if needed for heavy defects on paint.

SPECIAL DISCOUNT

for brand new cars that don't need Polish! Ask for details!
****Trucks, Van And SUV's EXTRA****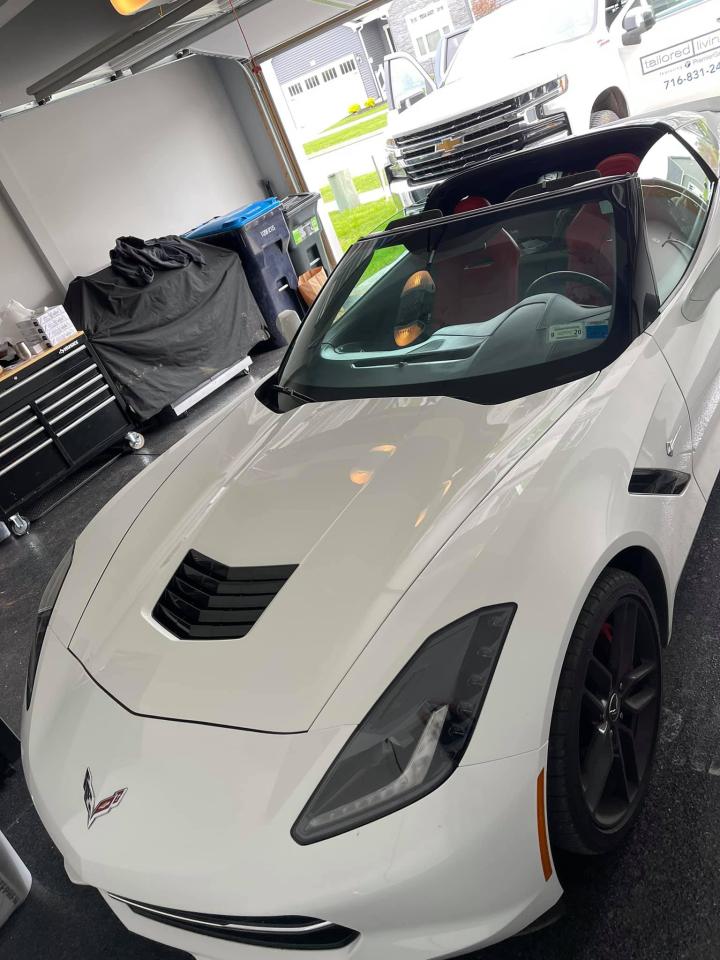 Ceramic coatings are extremely durable vehicle protection systems. Depending on the coating used they are suitable for use on paintwork, wheels, glass and plastic trim.
The basic chemical composition of a ceramic coating is Silicon Dioxide (SiO2). Ceramic coatings may also be referred to as quartz or glass coatings.
What is the hardness rating of your ceramic coating?
All our coatings have a 9H hardness, which is currently the best rating in the industry.
How long will it last? When will I need to reapply?
Our coatings are engineered to provide permanent protection for your vehicle. With proper care and maintenance, the life of your ceramic coating can outlast the usable lifetime of your car. We recommend using a ceramic spray 2-4 times per year or after washing to enhance your coating.This is a quick and simple spray and wipe process.
We advise that every 12 months the vehicle is thoroughly decontaminated by the removal of any road tar, iron, tree sap and industrial fallout deposits that may have accumulated. Following that we will apply an SIO2 sealant to rejuvenate the ceramic coating and enhance its hydrophobic properties.
Our Premium Mini Detail package slightly reworked with a different finishing product that contains high SiO2 content sealant is ideal for this.
How do I keep the car clean in the meantime?
A careful and regular washing regime using a PH neutral shampoo and/or hydrophobic spray will keep your car looking pristine. We can supply these products directly or point you in the direction of online retailers. The cost to you is the same either way. Also avoid letting your vehicle air dry always use quality microfibre to dry.
Are ceramic coatings a miracle "fire and forget" product?
Absolutely not, despite being very durable they still need maintaining. Beware of the hype that comes with many car treatment systems (ceramic and dealership applied treatments) that promise 'no polishing' and 'lifetime protection with no maintenance as part of the deal.
We have worked on countless vehicles with various coating systems applied and have yet to find any that meet the often extravagant claims made by the industry. It is simply not possible to coat a car, then treat it to the occasional wash, and for it to remain glossy and contaminant free several years down the road.
How does it work?
Waxes and many paint sealants sit on the applied surface. Ceramic coatings work by bonding a thin layer of product directly to your car's paintwork creating a new substrate. Once bonded the product is much harder to remove than traditional products and is, therefore, more durable.
I've had my car treated, is there anything to avoid?
Avoid roller brush car washes and wiping your car clean when it's dry. Always have a lubricant and clean microfibre or wash mitt.
Anything else?
Ceramic coatings need to cure for around 24 hours before being exposed to rain. Your car will need to be garaged overnight unless the weather forecast is for no rain.
How do they compare against dealership applied sealants?
They are much more durable in almost EVERY aspect of protection and visually appear to have a much higher gloss characteristic.
There's no comparison.